Australian Embassy Lisbon
Community Newsletter


22 May 2020
Dear fellow Australian citizens,

Spring has definitely arrived in Portugal and I hope this information-packed newsletter finds you and your dearest ones healthy and in good spirits.

We were pleased to hear your response to our first Newsletter and have included your feedback in this latest update on current issues in Portugal and Australia that might be relevant to our community.

Returning to Australia

Commercial flights are still operating out of Portugal to Australia via a number of hubs. This could change: given the unpredictability associated with COVID19, it is difficult to anticipate what flights will remain available in the coming months. Airlines and your travel agent remain your first stop contacts for flight bookings. If you continue to be stuck in Portugal and looking for options to return to Australia, please contact us. The Embassy receives regular updates and can help you with details on flights we are aware of. Please call or email for an update on current available flights.

Current measures only permit Australians and Permanent Residents to enter Australia. If you have an immediate family member who is not a citizen, you can apply for an exemption to allow them to enter.

Quarantine in Australia

A 14 day mandatory quarantine period upon arrival in Australia is still in force. Australians and permanent residents arriving in Australia will need to undertake quarantine in a government appointed accommodation facility prior to continuing on any domestic connections. More information is on the Home Affairs website, including a list of who might be eligible for exemption and how to apply.

Legal status of Foreigners in Portugal

We have received many enquiries from Australians concerned about their legal status in Portugal, with either their visa or residency permit about to expire. SEF (Portuguese Immigration) have an informative website providing clear advice in English, for foreigners in Portugal.

If your residency document or visa expired after 29 February, it will be valid until 30 October 2020. If you previously had an appointment with SEF and this was cancelled, SEF will reschedule these appointments as of 1 July 2020. If you wish to remain in Portugal and your visa will shortly expire, we strongly suggest you attempt to schedule an appointment with SEF ASAP. If you have other issues you can't resolve after checking with SEF, contact us for assistance.
Easing of restrictions in Portugal

As you'd be aware, the Portuguese government recently downgraded the "State of Emergency" to a "State of Calamity", easing confinement measures within Portugal. The three-phase program will permit the re-opening of shops, restaurants, schools, beaches, sporting events and cultural sites. A detailed plan outlining the phases can be accessed online in English, as well as a shorter summary.

Please continue to adhere to the Portuguese government recommendations to ensure your well-being.

Portugal/Spain Land border

Border crossing between Portugal and Spain for tourism and leisure activities will continue to be restricted until at least 15 June 2020. SEF provides more specific information, in English, about the rules governing the land borders.

Helping Australians get home … and that's not always Australia!

We have continued to assist a large number of Australians to return home, including when their usual residence is not Australia, but rather, Portugal. Strict border entries governing both Portugal and non-EU countries have caught out a number of Australians abroad who are normally resident in Portugal. The Embassy provided guidance and advice and we can gladly say that many Australians have now safely returned to Portugal, where they normally reside.

Did you know? We at the Embassy are part of a global effort to assist Australians to get home safely, no matter where you are.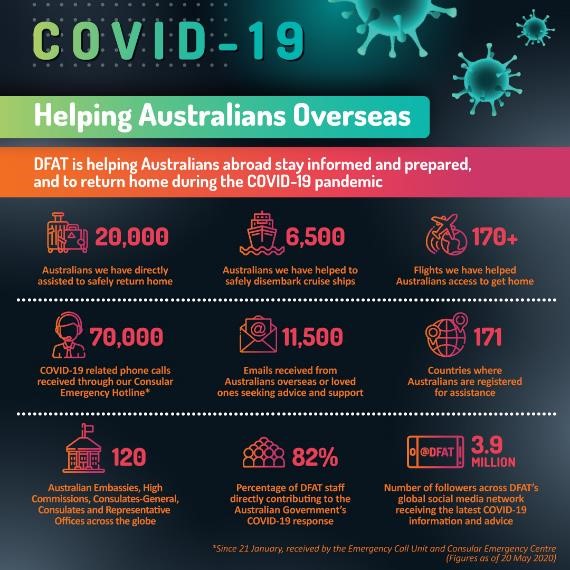 Feeling nostalgic for good Australian food?

A number of treasured Australian restaurants and cafes are re-opening for business in the Lisbon and Porto area. To lend your support and get your fix of a great coffee, tasty curry and good Aussie tucker, here are some suggestions. If you know of any other Australian small businesses in your area, let us know so we can share them with the community!

Appointments with the Embassy

We have seen an increase in requests to renew passports and access notarial services. For any of these services, an appointment is required to visit the Embassy. You can request this via our website or by email. Please ensure you wear a mask when visiting the Embassy. If you can't come to us, please call to ask about other arrangements.

We want to hear from you!

Please keep in touch with us by sending any questions or suggestions to [email protected].

Keep healthy everyone!

Ambassador Claire Rochecouste and team