Welcome to the website of the Australian Embassy in Lisbon.
Our contact details and other information about the Embassy are available under the About us in the menu.
Please be aware that if you plan to visit the Embassy, you must book an appointment and bring valid identification.
For security reasons, we ask that you keep travel bags, including hand bags, to a minimum when visiting the Embassy.

We are now on Facebook Australian Embassy in Portugal
Australian Marriage Law Online Survey
The Australian Marriage Law online survey form for Australian citizens overseas is now open.
Your voice counts: if you haven't done so, register to receive your access code.
https://marriagesurvey.abs.gov.au/survey/
Are you travelling to Australia?
The Australian Government has introduced additional aviation security measures for both international and domestic terminals at Australia's major airports, aimed at addressing heightened security concerns in the aviation sector. The travelling public can expect to experience an increased level of security scrutiny at the airport but they should not be concerned about these precautionary measures. As the measures place an additional burden on the screening system, it may take a little longer than usual to get through the process.
- Passengers are advised to arrive at least 2 hours before domestic flights and 3 hours before international flights to allow time for security screening.
- Passengers should also limit the amount of carry-on and checked baggage they travel with as this will help to ensure security screening is efficient.
There are no changes to what can and cannot be carried on board the aircraft.
http://travelsecure.infrastructure.gov.au/
Work and Holiday Visa (subclass 462) – Australia and Portugal
On 23 November 2014, the Work and Holiday Maker visa (subclass 462) became available for holders of Portuguese passports, aged between 18 and 30. For further information on how to apply, please click here.
https://www.portaldascomunidades.mne.pt/pt/noticias/532-acordo-de-mobilidade-jovem
The Work and Holiday program for 2017-18 reopened on 1 July 2017. Australian applicants can apply now. The allocation for Portuguese applicants is now exhausted. New applications can be made under the annual program from the 1 July each year.
Additional information can also be obtained here. For any queries on the program or visa requirements, you must contact directly the Australian Department of Immigration and Border Protection (DIBP).
Message from the Ambassador.
Australian Passport and Notarial Fees, 1 January 2017
Australian passport and notarial fees increased on 1 January 2017. See the list of passport and notarial fees.
The Australian Embassy Lisbon can provide a limited number of notarial and documentary services for Australians in Portugal.
Privacy Policy
The Department of Foreign Affairs and Trade (DFAT) uses third-party software (Setmore) to manage the Consulate-General's appointments. Your personal information (including your name and contact details) will be collected by DFAT via Setmore to book your appointment and for related purposes. By proceeding with this booking, you are consenting to the collection of this information by Setmore on DFAT's behalf for these purposes. If this information is not collected, DFAT's ability to arrange your appointment will be limited. Your personal information will be handled by Setmore in accordance with Setmore's Privacy Policy, and by DFAT in accordance with DFAT's Privacy Pollicy.
Where local notaries can provide services, the Australian Embassy will not provide them.
In many cases, local notaries can provide services more cheaply, quickly and conveniently.
Global Heads of Mission Meeting, 28-30 March 2017
Australian ambassadors travelled to Australia for a Global Heads of Mission Meeting from 28–30 March in Canberra, state and territory capitals, and rural and regional Australia. Ambassador Peter Rayner travelled to Western Australia and met with community and business leaders who are forging ahead to strengthen Australia-Portugal bilateral and economic relations.
The meeting brought together for the first time our Ambassadors, High Commissioners and Consuls-General to discuss foreign, trade and development policy objectives and the global environment in which we are seeking to achieve them. More information is available at http://dfat.gov.au/news/news/Pages/global-heads-of-mission-meeting.aspx
Beware of Employment Scams

The Embassy's attention has been drawn to instances of fraudulent online advertisements for employment in Australia. If you are a Portuguese citizen, you can contact the office of the Secretary of State for Communities:

https://www.portaldascomunidades.mne.pt/pt/trabalhar-e-viver-no-estrangeiro

Please be aware that only the Australian Department of Immigration and Border Protection (DIBP) is authorised to issue Australian visas. You are advised to verify the fraud alert on DIBP's official website:

http://www.border.gov.au/Trav/Visa/migration-fraud-and-scams
A scam recently reported to the Embassy involves fraudulent job offers in the name of Australian company Woodside Petroleum. Should you receive such an email, we advise you not to respond and to contact Woodside and the office of the Secretary of State for Communities. You should be aware that Woodside has an alert on its website (http://www.woodside.com.au/Careers/available-roles/Pages/Available-Roles.aspx#.WLfmActvg0M) regarding employment scams:
Phoney websites/employment scams
Woodside alerts website users to be aware of phoney websites and accompanying internet "scams" such as "phishing" and other techniques designed to trick people into giving out their personal information.
Fake websites often mimic a company's genuine website, incorporating their name and logo. Their aim is to entice users to log onto the site and submit personal information or undertake some other activity (including providing money) in the expectation they will be offered employment or receive some other benefit.
Woodside is working with authorities to limit the impact of these scams on Woodside. In the meantime, the company urges people to ensure the websites they visit and the emails they receive are genuine.
Please keep in mind that Woodside's official website and social media channels are:
http://www.facebook.com/woodsideenergy
http://twitter.com/WoodsideEnergy
http://www.linkedin.com/company/woodside-energy​
http://www.youtube.com/user/WoodsideEnergyLtd​

The recruitment site is http://www.woodside.com.au/c​areers. Any website claiming to be Woodside's which uses a different domain name is not genuine. If you receive any such request, please contact the Woodside recruitment team immediately: Recruitment@woodside.com.au
Further information on internet scams is available from the Australian Competition and Consumer Commission website www.scamwatch.gov.au.
Direct Aid Program - Cabo Verde, São Tomé and Princípe and Guinea Bissau
The Australian Embassy in Lisbon manages the Direct Aid Program (DAP) in Cabo Verde, Sao Tome and Principe and Guinea-Bissau.
DAP is a flexible small grants scheme available to individuals, community groups and local and international NGOs, government entities, academic institutions, museums or other non-profit organizations working in development activities at community level and that involve the beneficiaries in the identification and implementation of the project. The projects focus on areas of: poverty alleviation, income generation, education, sanitation, health, human rights, good governance, rural development, gender equality, environment and ad hoc humanitarian relief.
To view projects that have been funded, please click here.
Australian Ambassador to Portugal
On 3 June 2016, Australian Ambassador to Portugal, Mr Peter Rayner, presented credentials to HE the President of the Portuguese Republic, Prof. Marcelo Rebelo de Sousa.
http://foreignminister.gov.au/releases/Pages/2016/jb_mr_160419.aspx?w=tb1CaGpkPX%2FlS0K%2Bg9ZKEg%3D%3D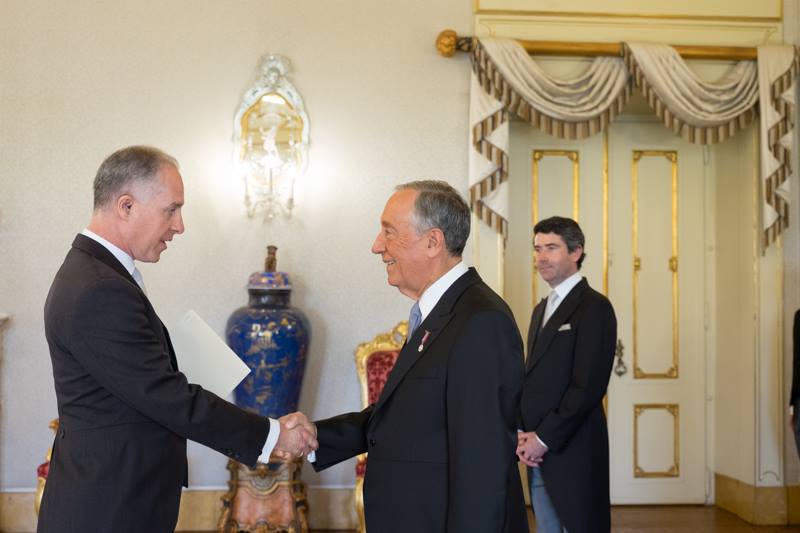 Business Mission to Australia
The Australian Embassy in Portugal and Austrade are supporting a Business Mission to Australia organized by the International Confederation of Portuguese Business (CIEP) and the Portuguese Chamber of Commerce and Industry (CCIP), in partnership with the government entity Portugal Global - Trade & Investment Agency (AICEP). The principal objective will be to provide businesses with a series of bilateral meetings and consultations with official entities, potential business partners and local customers.
For further information please click here.
Visiting Australia
The Australian Embassy in Lisbon, Portugal does not process visa or citizenship applications. For clients resident in Portugal visa processing is undertaken electronically through the online 'eVisa' service, or by processing centres in Australia, or by an immigration office at another Australian Embassy.
For further information, including telephone and email contact details, please click on Information regarding Visas and Migration.
Travelling in Portugal
Petty Crime in Portugal continues to be a problem for tourists. Australians planning to travel to Portugal should read the following information
Past Events
The Australian Ministers for Foreign Affairs and Trade & Investment highlight the Australian Government's foreign and trade priorities in this short video.
Other useful information