Welcome to the website of the Australian Embassy in Lisbon.
Our contact details and other information about the Embassy are available under the About us in the menu on the left.
Please be aware that if you plan to visit the Embassy, you must book an appointment and bring valid identification.
For security reasons, we ask that you keep travel bags, including hand bags, to a minimum when visiting the Embassy.

We are now on Facebook Australian Embassy in Portugal
Direct Aid Program - Cabo Verde, São Tomé and Princípe and Guinea Bissau
The Australian Embassy is Lisbon manages the Direct Aid Program (DAP) in Cabo Verde, Sao Tome and Principe and Guinea-Bissau.
DAP is a flexible small grants scheme available to individuals, community groups and local and international NGOs, government entities, academic institutions, museums or other non-profit organizations working in development activities at community level and that involve the beneficiaries in the identification and implementation of the project. The projects focus on areas of: poverty alleviation, income generation, education, sanitation, health, human rights, good governance, rural development, gender equality, environment and ad hoc humanitarian relief.
To view projects that have been funded, please click here.
Work and Holiday Visa Program
The 200 vacancies for the 2015-16 Portugal - Australia Work and Holiday Program have been filled.
Congratulations to all the young Portuguese and Australians who have been granted the Work and Holiday visa. We look forward to hearing about your experience!
Please note that the 2016-17 program begins on 1 July and ends on 30 June 2017.
https://www.portaldascomunidades.mne.pt/pt/noticias/532-acordo-de-mobilidade-jovem
Australian Ambassador to Portugal
On 3 June 2016, Australian Ambassador to Portugal, Mr Peter Rayner, presented credentials to HE the President of the Portuguese Republic, Prof. Marcelo Rebelo de Sousa.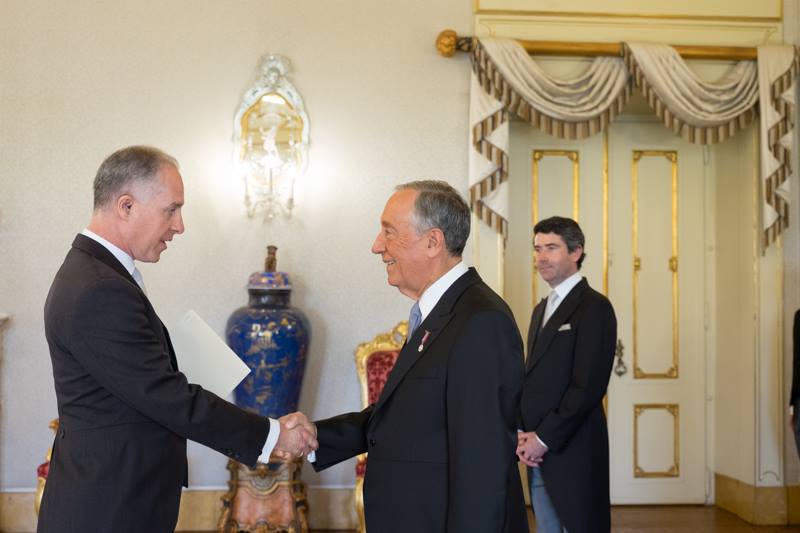 Business Mission to Australia
The Australian Embassy in Portugal and Austrade are supporting a Business Mission to Australia organized by the International Confederation of Portuguese Business (CIEP) and the Portuguese Chamber of Commerce and Industry (CCIP), in partnership with the government entity Portugal Global - Trade & Investment Agency (AICEP). The principal objective will be to provide businesses with a series of bilateral meetings and consultations with official entities, potential business partners and local customers.
For further information please click here.

Work and Holiday Visa (subclass 462) – Australia and Portugal
On 23 November 2014, the Work and Holiday Maker visa (subclass 462) became available for holders of Portuguese passports, aged between 18 and 30. For further information on how to apply, please click here.
First Year of the Portugal-Australia Work and Holiday Agreement Draws to a Close
Message from the Ambassador.
Additional information can also be obtained here.
Visiting Australia
The Australian Embassy in Lisbon, Portugal does not process visa or citizenship applications. For clients resident in Portugal visa processing is undertaken electronically through the online 'eVisa' service, or by processing centres in Australia, or by an immigration office at another Australian Embassy.
For further information, including telephone and email contact details, please click on Information regarding Visas and Migration.
Travelling in Portugal
Australians planning to travel to Portugal should read the following information
Cultural Events
Past Events
A seminar on Exporting & Investing in Australia was hosted by the The Portuguese Chamber of Commerce, with the support of the Australian Embassy, on 23 September 2014. View highlights of the seminar here.
The Australian Ministers for Foreign Affairs and Trade & Investment highlight the Australian Government\'s foreign and trade priorities in this short video.
Other useful information